FREQUENTLY ASKED QUESTIONS
Is a pumpkin included with admission?

No, unfortunately a pumpkin is not included with admission! Prices vary depending on the size, anywhere from $6 to $10. We have mini pumpkins, warty, and regular pumpkins for sale.
What is included in admissions?

There are over 20 different attractions included with admission. Your admission includes things like:

live shows every hour
corn maze
hay wagon rides
small zip lines
giant sling shot
pedal carts
giant slides
farm animals
cow barrel train rides
tire swings
rat rollers
mine cart ride to pan for gold
giant inflatable shark slide
duck derby races
corn crib
pumpkin jump pads, and so much more!

Check out our map of our fall festival for a full list here!
What is not included in admissions?

Things that are not included in admissions are our premium attractions and food/drink.

These premium attractions include axe throwing, giant zipline, and trampoline bungee jump. Each of these attractions cost tickets which can be bought in advance online on our ticket page, or in person at the admission booth or any lemonade stand.

Tickets are a dollar each, $16 for a 20 pack, and $9 for a 10 pack. The ticket breakdown is 4 tickets for axe throwing, 12 tickets for giant zipline, and 12 tickets for bungee jump.

For food and drink, we offer a wide variety of choices, including hamburgers, hot dogs, pulled pork sandwiches, funnel cake, fried Oreos and Twinkies, apple cider donuts, lemonade, and apple cider. Check out out full list of concessions choices here.
Do you need reservations?

No, reservations are not required here! You can come any day that fits with your schedule during our operating hours. If you buy tickets online, just show admissions your QR code and you're all set to have fun! If you choose so you can also purchase at admissions at the gate as well.
Buy tickets online or in person?

You can buy tickets online or in person whichever you choose! There are no reservations required so feel free to come whenever fits into your schedule. Your wristband is valid for the entire day we are open on the day that you visit us as well. Just make sure to keep your wristband on if you decide to leave and come back later that day.
Do you need to pay for just a pumpkin?

No, if you just want to get a pumpkin we will not charge you for admission. There are two pumpkin fields that are next to the ticket counter so you can choose which pumpkin you'd like. You can also check out at the ticket counter or at the pumpkin tent next to the pumpkin area.

However, if you do walk past the ticket counter, our policy is that we would have to charge you the admission rate to get access to the full grounds area.
Can we bring our well behaved dog?

No, unfortunately you are not allowed to bring your dog unless it is a service animal.
See more frequently asked questions
★★★★★

First year here and our family really enjoyed it. Plenty of activities including hay rides, zip lines, swings, bouncy castles that were included in the price. Also picked up a few pumpkins, jelly, and fudge, and the hot dogs appeared to be higher quality than other places. Will be back next year!

Steve Harmsa

★★★★★

Such a cool place. The people who operate this are so friendly and generous. They deserve all your business and more. So many fun things to do and so creative. My kids could spend all day here. Heck, so could I!

Logan Anderson

★★★★★

I brought the kids and we all had such an amazing time! The staff was so friendly and seemed really invested in creating a nice experience. Our favorite part was all the adorable props and photo ops to take amazing fall pictures! We will definitely be coming back!

M. Nicky
Closed for the 2023 season

Due to weather we're closed for the remainder of the weekend. Thank you for another great season!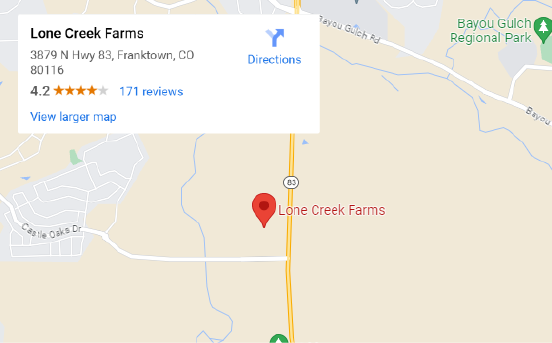 Lone Creek Farms
3879 N State Hwy 83, Franktown, CO 80116
Annual Fall Festival September 21st-October 28th
Due to forecasted weather we will be closed Sunday 10/29 for Fall Festival and Saturday night 10/28 for Slaughter Gulch
Email Admin@LoneCreekFarm.com for assistance